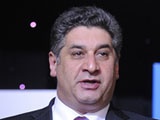 The main purpose of the young Azerbaijani athletes this year is to obtain licenses to the first Youth Olympics in Singapore, Youth and Sports Minister Azad Rahimov told reporters at an event dedicated to the Day of Physical Culture in Azerbaijan.
The First Youth Olympic Games of the history will be held from 14 to 26 August 2010 in Singapore.
The most significant tournaments in Azerbaijan in 2010 will be the World Fencing Championships among youth and adolescents during Apr. 1-10 in Baku and the upcoming European Wrestling Championships.
/Trend News/