Azerbaijani skier Gaia Bassani Antivari took part in the competitions in slalom in the Vancouver Olympics.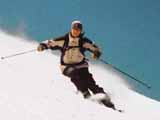 Unlike her performance in a giant slalom, this time she failed her first attempt to reach the finish line.
Some 55 skiers managed to reach the finish while 31 athletes failed to do so.
Maria Risch from Germany became winner of the competition.
So, Bassani Antivari has ended her performance in the Olympic Games.
Day.Az