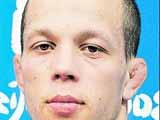 On Feb. 24, leader of the Ukraine's national freestyle wrestling team, silver medalist of the XXIX Summer Olympic Games in Beijing, Andrey Stadnik (husband of Maria Stadnik, Olympic medal winner of the Azerbaijani team) reported of a robbery in his apartment to the Sykhovsky district police department.
"I do not know precise details of the incident, but it is known that medals, money and valuables things have been stolen from Stadnyk's apartment," Spokesperson of the Lviv regional police Denis Kharchuk said.
"Jewelry worth 4,700 U.S. dollars, eight men's watches worth $ 25,000 dollars, home appliances worth 5,000, two Olympic medals (one of which belongs to Maria Stadnik), alcoholic drinks, women's and men's perfums have been stolen."
"It all happened just after I talked to reporters about prize money of the last Olympics. I told him that I have received all of the promised fees. I was robbed after two days," Andrey Stadnik said.
"I am upset not about the money, but medals from Beijing. The robbers took away medals from the Beijing Olympics among many others," Stadnik added.
/Komsomolskaya pravda/