Azerbaijani grandmaster Vugar Hashimov has been held to a draw by Spaniard Francisco Vallejo in the 9th round of the Linares super tournament, increasing his points to 4.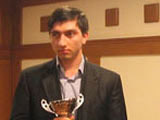 The day's other results are as follows: Alexander Grischuk 1-0 Veselin Topalov, Boris Gelfand 0.5-0.5 Levon Aronian.
After nine rounds, Grischuk and Topalov lead the table with 5.5 points.
Total prize fund of the tournament amounts to ?215,000, with the winner taking ?75,000.
/AzerTac/