Azerbaijan's Vugar Hashimov has claimed his first win in annual Linares chess tournament by defeating Spain's Francisco Vallejo in the 5th round.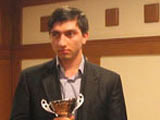 In the day's other games Topalov beat Grishuk, while Gelfund drew with Aronyan.
Topalov tops the table with 3.5 pts, and is followed by Hashimov, Aronyan and Grishuk who have 2.5 pts each. Bottom side Vallejo and Gelfund both have 2 pts.
The 6th round will pit Topalov against Vallejo, Grishuk against Aronyan, and Hashimov against Gelfund.
/AzerTac/