Azerbaijan's futsal players have lost hopes of making it to their first ever European final after losing to Portugal on a penalty shoot-out in Debrecen, Hungary.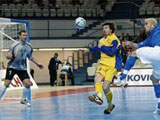 The full time marked a dramatic 3-3 draw, and Portugal sealed their win after scoring all 5 penalty kicks.
Azerbaijan will face Czechia, the team they hammered 6-1 in the group stage, for bronze.
The gold medal match will see Portugal lock horns with Spain which thrashed Czechia 8-1 in semi-final.
/AzerTac/