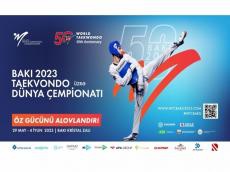 The 26th Taekwondo World Championship will start today in Baku, Azernews reports.
Some 949 athletes from 145 countries will compete for 16 sets of medals in the competition to be held in "Baku Crystal Hall".
In the seven-day championship, Azerbaijan will be represented by Sayyad Dadashov (54 kg), Gashim Magomedov (58 kg), Khanoglan Karimov (63 kg), Javad Agayev (68 kg), Eltaj Gafarov (74 kg), Aliaskar Aliyev (80 kg), Taleh Suleymanov. (87 kg), Hamidrza Badrialiabadi (+87 kg), Minaya Akbarova (46 kg), Patimat Abakorava (49 kg), Samarrukh Osmanova (53 kg), Fatima Majidova (62 kg) and Farida Azizova (67 kg).
Coinciding with the 100th anniversary of the National Leader Heydar Aliyev and the 50th anniversary of the World Taekwondo Federation, the championship will be organized under the slogan "Ignite your power".
In total, about 2000 guests from more than 150 countries will come to Azerbaijan for the World Championship. On this occasion, a series of events will be held within the framework of the championship. The athlete who will become the world champion will add 140 rating points to his asset.
The decision to host the competition in Baku was made last year. At the meeting organized in the administrative building of the International Olympic Committee in Lausanne, Switzerland, and attended by the president of the organization Thomas Bach, Azerbaijan won by voting, although 3 countries were nominated for this competition. At the last moment, Bulgaria withdrew its request. As a result, Azerbaijan and China claimed to host the world championship. Taking into account the fact that Azerbaijan has successfully hosted a number of prestigious competitions, as well as the European Taekwondo Championship, the Grand Prix, and the Olympic qualifying tournaments, the international organization entrusted the world championship to Azerbaijan.
After Russia, the World Championship will be held in Azerbaijan for the second time among the CIS countries. Among the European countries that will host the World Cup, our country will go down in history as the seventh after Germany, Denmark, Spain, Greece, Russia, and Great Britain.