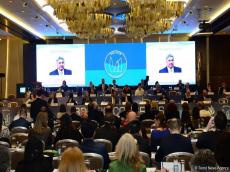 By  Trend
The 82nd Congress of the International Gymnastics Federation (FIG) kicked off in Baku on Dec.2 and will continue on December 3.
Speaking at the opening ceremony of the Congress, Azerbaijan's Minister of Youth and Sports Azad Rahimov said it is not by coincidence that such a high level and internationally acclaimed event is taking place in Baku.
"I am extremely delighted to welcome each of you to Baku, Azerbaijan for 82nd Congress meeting of International Federation of Gymnastics. It is not by coincidence that such a high level and internationally acclaimed event is taking place in our capital city of Baku. Baku has evolved as a global host of prestigious events. As you may know, we hosted the First European Games in 2015, Fourth Islamic Solidarity Games in 2017, the World Chess Olympiad, the annual Formula 1 Grand Prix, Special Olympics Youth Forum, WADA Executive Committee and Foundation Board meetings just last month and many other significant international events," said the minister.
FIG President Morinari Watanabe during his speech at the opening of the event noted the high level of organization of the Congress.
"I am sure that the Congress will successfully complete its work. We highly appreciate the work of the Azerbaijan Gymnastics Federation," said the head of the organization.
The Congress, which is, according to the FIG Charter, the highest body of this structure, will be attended by about 300 representatives from more than 115 countries.
The 82nd Congress heard reports of the FIG president and technical coordinator, as well as presidents of the technical committees on various types of gymnastics. Then the heads of the continental unions that are FIG members delivered reports. The Congress participants will also approve the quarterly financial plan of the structure.
Moreover, admission of new members to FIG, as well as exclusion of some federations from the structure will be discussed and the venue of the next Congress will be determined.
During the meeting, various proposals put forward before the beginning of the Congress by FIG's governing bodies, including the member federations, were discussed. The Congress participants also considered changes made to the rules and the Charter of the international structure, various premium awards.
Before the beginning of the Congress, the meeting of the FIG Presidential Commission took place on November 29, and the meeting of the FIG Executive Committee was held from November 30 to December 1.
The meeting of the FIG Council, which is one of the governing bodies of the FIG, was also organized in Baku in May 2017.