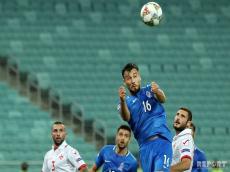 By Report
Azerbaijan's football player Rufat Dadashev completes his year in Germany ahead of schedule.
Report informs citing the Münstersche Zeitung that the 27-year-old forward playing within German Preussen got injury in the 16th round of the 3rd league in the match against Eintracht 3-0. At the 69th minute of the match, Dadashev suffered a hip injury.The forward was able to finish the match, but he will not be able to enter the pitch for at least 3 weeks.
Notably, "Proissen", ranked 2nd with 29 points, has 4 matches ahead. The club will hold three home matches and one away match.