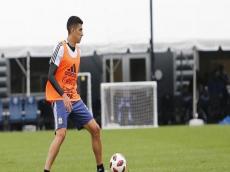 By  Azertac 
Three players of Portuguese football club Sporting - one of  Qarabag FC opponents in Competitors in the Europa League group stage will not play in the match against Marítimo.
Report informs citing record.pt that head coach José Peseiro will give these players a chance in the first round of the Europa League against Qarabag FC in group stage.
The 58-year-old specialist will train midfielder Rodrigo Battaglia, defender Stefan Ristovski and Sebastián Coates for the match against Agdam's team. This may be an opportunity for Bruno Gaspar, Jérémy Mathieu, Josip Miši?, Markus Vandel and Carlos Mané, who have difficulty getting into the squad.
Notably,  the Sporting - Maritimo match, which will be held in Portugal - League Cup 2018/2019, will start at 23:00 Baku time on September 16. The Sporting- Qarabag match will be held the same hour four days later.