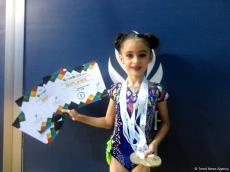 By Trend:
Azada Atakishiyeva, a gymnast representing Azerbaijan's Ojag Sport club, wants to dedicate victory at the GymBala International Tournament in Rhythmic Gymnastics to her coach.
Atakishiyeva ranked first among seven-year-old gymnasts in freehand exercise, in exercise with a hoop and all-around competitions.
"For the first time I perform in the National Gymnastics Arena," she told Trend. "I liked it very much. My relatives came to support me. When I know that they are near, it is easier for me to perform, although I did not worry."
"I am very glad that I have won three gold medals in the tournament," the gymnast said. "I am very pleased with my performance. I will train hard and try to always take the first place."
GymBala International Tournament in Rhythmic Gymnastics has kicked off at the National Gymnastics Arena in Baku.
Within the two-day event, gymnasts included into 2011-2013, 2008-2010, 2006-2007, 2003-2005 age categories are competing in the individual program, while gymnasts born in 2011-2013, 2008-2010, 2006-2007 and 2003-2005 are testing their strengths within teams in group exercises.
At the competitions, where along with the experienced gymnasts, young gymnasts also take part in, participants compete for the medals both in the All-Around and Apparatus Finals.
Together with the representatives of Azerbaijan, gymnasts from Kazakhstan, Hungary, Ukraine and Egypt are also expected to participate in the summer's last gymnastics event.