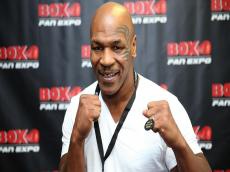 By Azernews
By Laman Ismayilova
Boxing legend Mike Tyson will pay a two-day visit to Azerbaijan this autumn.
The head of the promotion group "Godzilla", Emil Amiraslanov said that at the press conference held with the participation of the world famous Brazilian semi-retired professional mixed martial artist competing for Bellator MMA Royce Gracie.
Within two days, Mike Tyson will meet with boxing fans and conduct a master class.
Royce Gracie is considered one of the most influential figures in the history of MMA. Gracie gained fame for his victories in the first UFC tournaments. He gained fame due to victories with the help of wrestling techniques over much larger opponents. Gracie popularized Brazilian Jiu-Jitsu all over the world. His achievements in mixed martial arts contributed to changes in the training of fighters of a mixed style.
Gracie highly appreciated that in Azerbaijan the state pays special attention to the development of sport and the promotion of a healthy lifestyle. He also plans to open a branch of the Jiu-Jitsu Gracie Academy in Baku, whose central office is in Torrance, California. Now it is one of the most successful and famous jiu-jitsu schools in the world.
"With the help of Royce Gracie, we want to hold one of Bellator Fighting stages in Baku. Bellator MMA is an American sports organization based in Newport Beach and conducting fights in mixed martial arts. It annually organizes tournaments in which fighters identify the winner on the Olympic system in different weight classes. In addition, fights are held for the champion belt of the organization," said Amiraslanov.
Tyson is a former undisputed heavyweight champion of the World and won his first 19 professional bouts by knockout, 12 of them in the first round.
He holds the record as the youngest boxer to win the WBC, WBA and IBF heavyweight titles at 20 years, 4 months, and 22 days old.
Tyson is the world champion in the versions of WBC (1986-1990, 1996), WBA (1987-1990, 1996), IBF (1987-1990), The Ring (1988-1990). Linear Champion (1988-1990). "The most promising boxer" in 1985 according to the magazine "Ring". The best boxer, regardless of the weight category according to the magazine "Ring" (1987-1989). "Boxer of the Year" according to the magazine "Ring" (1986, 1988). Boxer of the Year by BWAA (1986, 1988).
Tyson was entered in the Guinness Book of Records and received two certificates: for the most number of the fastest knockouts and for becoming the youngest world heavyweight champion.
He is the founder of the promotion company Iron Mike Promotions. In addition to boxing, Mike is known for his acting career. He took part in writing the script for the autobiographical film "Tyson" (1994), starred in two documentaries "Beyond Fame" (2003) and "Mike Tyson" (2009). In 2016, he starred in one of the main roles of the film "Ip Man 3".