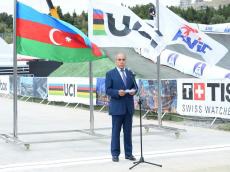 By Azernews
By Rashid Shirinov
Solemn opening ceremony of the UCI BMX World Championships, the event that annually brings together all the fans of this breathtaking sport, was held in Baku on June 5.
Chairman of the Organizing Committee and First Deputy Prime Minister of Azerbaijan Yagub Eyyubov, Youth and Sports Minister Azad Rahimov, First Vice-President of Azerbaijan Cycling Federation, member of UEC Management Board and head of the working group established to organize the 2018 BMX World Championships Sahib Alakbarov as well as Vice-President of the National Olympic Committee Chingiz Huseynzade and other officials attended the event.
While welcoming the participants of the championships, Eyyubov mentioned that Azerbaijan holds prestigious sports competitions at the highest level.
"The fact that Azerbaijan is entrusted with the organization of major competitions shows that the country is thriving and developing day by day. Thus, Azerbaijan held at the highest level such grandiose competitions as the 2015 European Games and 2017 Islamic Solidarity Games," he said.
Eyyubov added that the Organizing Committee, which is equally concerned about all sports, will ensure holding the tournament at a high level.
"The competition area meets all the requirements. I would like to wish good luck and victory to all athletes. I declare the tournament open," he said. Then, the national anthem of Azerbaijan was played.
It is noteworthy that more than 1,500 athletes from 43 countries are taking part in the grand competition, which will last until June 9.
Azerbaijan is represented by eight cyclists at the championships. Khayal Ibrahimov, Soltan Israfilov and Justinas Pavlovas will compete in the Challenge category on June 6. Orkhan Mammadov, Vugar Nasibov, Kanan Babayev and Yelmar Shahmarzade will perform on June 7, and the representative of the Elite category Agshin Ismayilov will show his performance on June 8.
BMX World Championships are the competitions for BMX (bicycle motocross) racing held under the regulations of the International Cycling Union, the sport's international governing body.
The championships are held annually and the winner of each event is crowned the BMX Cycling World Champion. The UCI awards a gold medal and a rainbow jersey to the winner, who wears the jersey until the following year's championship.
Azerbaijan has already gained its international recognition as a sports country. Over the past few years, the country hosted 2015 European Games, 2017 Islamic Solidarity Games, Formula 1 Azerbaijan Grands Prix, several gymnastics championships and chess tournaments as well as a number of other sports events. Azerbaijan is hosting for the fourth time the world championship in BMX cycling being an Olympic sport.