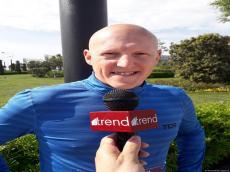 Trend:
Baku Marathon 2018 encourages people to do some sport, a runner from Scotland Alan Mentify told Trend May 13.
Mentify said he has been living and working in Baku for seven years.
"Everything is very good. People feel healthy. This marathon encourages people to do some sport," he added.
The Scottish runner expressed confidence that he will reach the finish line.
Baku Marathon 2018 is due to start under the auspices of the Heydar Aliyev Foundation on May 13.
Held for the third time, this year's Marathon retains its motto: Win the Wind.
With its major goal of promoting sport, healthy lifestyle and bringing people in their pursuit of good intents, the Marathon was organized by the Administration of the Seafront Boulevard along with the Baku Olympic Stadium, and Sport Marketing Group (SMG) acting as the executive agency. The exclusive partner of the "Baku Marathon-2018" is "Azercell Telecom".
The Baku Marathon 2018 will start at the National Flag Square and run 21 kilometers all the way to the Baku Olympic Stadium.
Awards for the Baku Marathon 2018 will be granted in two categories: the first three places among men and women. Winners of the first places in both categories will be awarded 3,000 manats, whereas the second and third prize winners are to get 2,000 and 1,000 manats respectively along with gifts, medals and certificates. Besides, the winners of 4-10 places among men and women categories shall get various gifts from sponsors. Volunteers supporting the marathon and all participants will be awarded certificates by the organizers.
The funds gained from the Baku Marathon 2018 will be spent on the Heydar Aliyev Foundation's project related to children deprived of parental care.
To date, Veysi Aslan, a Turkish citizen, has shown the best result in the semi-marathon held in Baku. In 2017, he reached the finish line in an hour and seven minutes. The winner of the Baku Marathon 2016 Namig Asadov from Azerbaijan covered the distance in an hour and seventeen minutes.