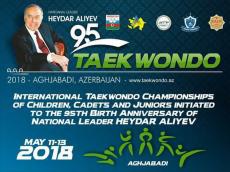 An international taekwondo tournament among children, cadets and juniors, commemorating the 95th anniversary of national leader Heydar Aliyev will be held in Aghjabadi region on May 11, Azertac reported.
The tournament is co-organized by the Azerbaijan Taekwondo Federation, Ministry of Youth and Sports and Aran taekwondo club with the aim of promoting taekwondo throughout the country, stimulating its development in the regions and increasing the skills and professionalism of athletes.
The three-day tournament will feature fighters in the under-15, under-13 and under-10 and under-8 age categories.