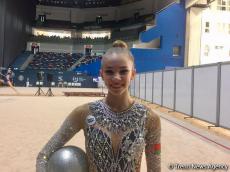 Trend:
Azerbaijani gymnasts have excellent conditions for training, Belarus gymnast Anastasiia Salos told Trend April 28 at the World Cup in Rhythmic Gymnastics in Baku.
"I am here for the first time, and I am just amazed at what a great gymnastics arena this is. Azerbaijani gymnasts are lucky to train in such an arena. Not nearly all athletes have such excellent conditions," said Salos.
The gymnast noted that Baku is a very beautiful city.
"I did not have time to see the city, but I liked Baku for what I saw. We walked by the sea last night, and the city looked amazing in the night-time illumination, lights were everywhere, and everything flickered so beautifully," said the gymnast.
The second day of the Rhythmic Gymnastics World Cup started April 28 at the National Gymnastics Arena in Baku.
On the second day of the competitions, Azerbaijan is represented by Veronika Hudis and Zohra Aghamirova in individual performances, as well as by a group team consisting of Ayshan Bayramova, Diana Doman, Zeynab Hummatova, Aliya Pashayeva and Siyana Vasileva.
The Rhythmic Gymnastics World Cup is being held in Baku for the sixth time. Some 127 gymnasts from 26 countries are participating in the tournament, which started on April 27 and will last until April 29. Of these, 44 athletes are performing in individual programs, while 83 gymnasts are competing as team members in group exercises.