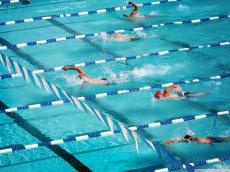 By  Azertac 
Azerbaijani swimmers have captured 23 medals, including 10 golds at the Slovak Open 2018 held in Zilina.
Azerbaijan's medals came from Maxim Shemberev (4 golds and 1 silver), Fatima Alkaramova (3 golds and 2 silvers), Ayan Kalantarova (1 gold and 4 silvers), Alsu Bayramova (2 golds and 1 bronze), Ramil Valizada (3 silvers), Rashad Alguliyev (a silver) and Vali Israfilov (a bronze).
Azerbaijan's squad included 9 swimmers.