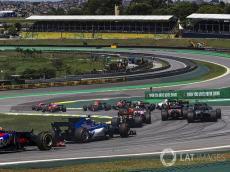 By  Azertac 
Aston Martin believes it is in the position of "disruptor" in the debate over Formula 1's future engine regulations for the 2021 season, according to motorsport.com.
The British manufacturer was "encouraged" by the direction of the 2021 engine plans that were unveiled by F1 in October.
However, there has been a backlash from F1's established manufacturers, with Mercedes, Renault and Ferrari all raising doubts about the intended new direction.
While Aston Martin can understand that approach, it has also made clear that it would go about an F1 programme differently to the current marques involved.
"We are acutely conscious that the current incumbents will try to bring the sport towards whatever they have right now," said Aston Martin president and CEO Andy Palmer.
"I would if I was in their shoes too. We stick out there as the disruptor, which I like. If we do an engine, we won't do it by ourselves. We'll start now to look for partners.
"That's a partnership from a technical point of view and from a manufacturing point of view. We are starting that study now in parallel to the machination of the regulations."
Key to Aston committing to F1 is a promise from F1 that the costs of producing and subsequently developing the engine are brought down - and Palmer feels there is still some way to go.
"We put a letter together which we submitted to the FIA and Liberty saying 'this is what we think' from a potential independent manufacturer's point of view," he said.