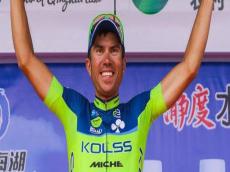 By Azernews
By Laman Ismayilova
Oleksandr Polivoda will join the Synergy Baku Cycling Project in 2018.  The Ukrainian racing cyclist is leaving the Kolss team to join the Azerbaijani team.
Thirty-year-old Polivoda  has been a member of the Ukrainian team since 2014. Over the years he has won five stages at the Tour of Qinghai Lake, including two this year. In 2017, he also claimed the national time trial title and won a stage at the Tour of Xingtai.
"I am very pleased that a team like Synerg? Baku has added me to their project. After four years with the Kolss team, I feel annoyed about its closure on the one hand, but on the other hand, signing a contract for 2018 with Baku gives me a new incentive and excitement, as well as continuing my career," Polivoda said.

"I also feel a sense of responsibility and the hopes placed on me, both for results and the development and popularization of the Azerbaijan cycling. Thanks to the whole team for the trust and warm welcome," he added.

Sport Director Eldar Dzhabrailov is happy to welcome an old friend to the team.
"I'm very happy that such a strong rider will perform in our team. We have known each other since our youth, we raced in many races in Ukraine, and also raced together in Italy, unfortunately not in one team but against each other, but this did not stop our friendship and after all these years we now find  ourselves on the same team and we will go together to great results. Polivoda feels the races well and races cleverly, and I think he will teach his skills to our young Azerbaijan riders," he said. 
The entire Synergy Baku Cycling Project team lineup for 2018 will be announced shortly.