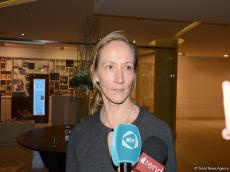 By Trend:
Lisa Worthmann, the General Director of UEG's Lausanne headquarters, has praised the activity of the Azerbaijan Gymnastics Federation (AGF) saying that it works very professionally.
She made the remarks when commenting the election of AGF Secretary General Farid Gayibov as the president of the European Union of Gymnastics (UEG).
"I am very happy with the results of the elections", she told Trend. "I think nowadays in the sports it is very important to have people organizing things professionally, and Farid is certainly one of them. We have seen in Azerbaijan how the events are being arranged. His own federation works very professionally."
She further noted that there a lot of ideas ahead to work on.
"First thing to do will be to sit together and see what we should do first. I think our biggest stress will certainly be issues of the development and the work on the marketing plans. Also we need to become more professional in our event presentation. I think that will be our main topic."
Azerbaijan Gymnastics Federation Secretary General Farid Gayibov was elected as the President of the European Union of Gymnastics (UEG).
The 50 member Federations of the UEG elected the new UEG authorities at the 27th Congress in Split, Croatia Dec.2. Gayibov gained 28 votes, leaving behind Edvard Kolar, President of the Management Board of the Slovenian Sports Lottery, who received 20 votes.
Gayibov will replace Georges Guelzec (FRA), who led the UEG since 2009.