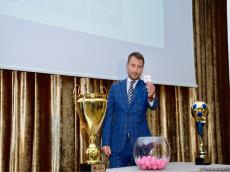 By Azernews
By Laman Ismayilova
A ceremony of drawing lots for AZFAR Business League - ABL Cup 2017/18 took place at Pullman Hotel on October 20.
The mini-football championship  Azfar Business League of such format and scale is held for the first time in Azerbaijan and will take place on the professional pitches of the AZFAR company.
ABL Cup 2017/18 is organized by  ASEP (AZFAR SPORT EVENT & PROMOTION).
The ceremony was hosted by sports commentator Sanan Sharifzade.
In their speech,  the head of the football department of the Azerbaijan Ministry of Youth and Sport Fikret Huseynov, coordinator of Azerbaijan Football Federations Association in Futsal Asim Khudiyev said that the holding of the championship will be a remarkable event in the sport life of the country. Speakers emphasized the high level of the organization.
The project manager Tarlan Mammadov told about the rules of the draw and the conditions of the championship.
As a result of blind drawing, 32 teams participating in the tournament were divided into 8 groups. In the group stage, each team will play 3 matches. Based on the results of group matches, another draw will be organized, according to which the teams will continue the games on the Olympic system. Teams that do not qualify for the playoff series will continue to play for a place in the overall table of the championship and determine their personal ranking.
The general director of ASEP Andrey Sarichev, the general manager of the Pullman hotel group Denis Le Nohaic (France), the captain of the Zira team Anar Nazirov and the player of the Zira team, Serbian football player Milan ?uri? took part in the drawing ceremony. Each of them chose eight teams, which were divided into different groups.
Further AZFARGROUP marketing manager Azer Huseynov spoke about the prospects for the development of mini-football among amateurs in Azerbaijan. He also shared his plans that will contribute to the development of the sport in the country.
After the draw, the organizers answered the questions of the championship participants. The guests enjoyed a festive reception and wonderful music.
For more information, please visit:
 https://www.facebook.com/media/set/?set=a.704938406383073.1073741830.673336346209946&type=1&l=9e0f56c3e3
A detailed report on each match will be posted on the website:  www.abl.az.
Here you can get acquainted with the participants of the championship, groups and time of the games, get a lot of useful information.
Media partners of the event are Trend.az, Day.az, Milli.az, Azernews.az, Dsport.az, ATV