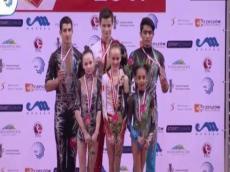 By Azernews
By Amina Nazarli
Three bronze medals -- this is the "haul" of the Azerbaijani gymnasts at the 28th European Championships in Acrobatic Gymnastics, which recently ended in Polish Rzeszów.
In Elite's categories 12 Federations sent seniors: six Women's Pairs, nine Men's Pairs, ten Mixed Pairs, ten Women's Groups and seven Men's Groups.In the junior category 13 Federations competed with seven Women's Pairs, 10 Men's Pairs, 19 Mixed Pairs, 16 Women's Groups and three Men's Groups.
The first 'bronze' came from the mixed pair Agasif Rahimov and Nurjan Jabbarli in the final of the balance exercise. A day later the duo was again called on the pedestal after the end of the competitions in the all-around. The representatives of the Baku Gymnastics School received 83 points from the judges in the sum of the biathlon, they outstripped many strong rivals and again became the owners of the third place.
The second national duo Abdullah Al-Mashayyhi and Rukhidil Gurbanli also returned to their homeland not with empty hands. In the final of the tempo combination, their scores were just below the peers from Belgium and Russia.
Thus, this medal was the third in the piggy bank of the national team and the very first in the asset of two talented acrobats.
Prior to the European championship, a continental tournament -- the 9th European Age Group Competitions among the age groups was held in the same city where very young national acrobats debuted.
The men's pair (11-16 years old) Daniel Abbasov-Murad Rafiev qualified for the final, where it became the 5th, and the women's group (12-18 years) in the composition of Emilia Nazarli, Razia Seyidli and Lyaman Mammadova took the 6th place.