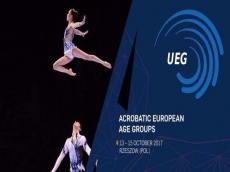 By Azernews
By Amina Nazarli
The 9th European Age Group Competitions welcoming acrobats among the age groups was held in Polish city of Rzeszów on October 13-15.
Azerbaijan was represented by Daniel Abbasov and Murad Rafiyev (11-16 years old) among junior men's pairs, and by Emilia Nazarli, Razia Seyidli and Lyaman Mammadova (12-18 years old) in the competitions of the women's trio.
Having successfully performed in both programs, Azerbaijani men and women gymnasts went to the finals. In the final stage, the national men's couple with 26.000 points took the 5th, and the women's trio placed 6th with 26.600 points.
Once more, Rzeszów will be the capital of European acrobatic gymnastic between October 19 and 22 to host the 28th European Championships in Acrobatic Gymnastics.
In the competition among juniors in exercises among mixed pairs, Azerbaijan will be represented by Agasif Rahimov-Nurjan Jabbarly and Abdullah Al-Meshayhi - Rukhudil Gurbanli.