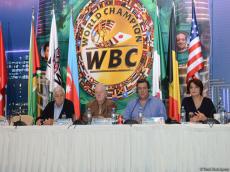 By Azernews
By Laman Ismayilova
Baku will host a boxing fight for the title of WBC champion in 2018, according to President of the World Boxing Council Mauricio Suleiman.
In his speech in Baku on October 5, Suleiman stressed that he will forever remember his visit to Baku.
"We saw an unexpected hospitality in Baku," he said.
WBC president said that Azerbaijan pays great attention to the development of sports. National boxers are known in the world, they achieve successful results.
He added that Azerbaijan has created all conditions for holding the 55th World Boxing Council Convention.
Suleiman said that work is underway in Azerbaijan to establish a professional boxing federation.
"We are ready to provide Azerbaijan with all the necessary support for the creation of the Federation of Professional Boxing," he said.
Azerbaijan's capital, Baku, hosts the Convention with participation of 164 member countries. The event, which is attended by more than 500 guests, will last until October 6.
Officials of WBC member countries, heads of federations, sport managers, former and current champions from the North and South America, Africa, Asia and Europe are participating in the event.
The World Boxing Council was created in 1963 by 11 national boxing organizations.