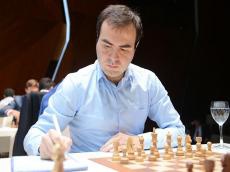 By Azernews
By Laman Ismayilova
Azerbaijani Grandmaster Shakhriyar Mammadyarov has ranked the 8th with 2,785 points in the latest edition of the Universal Rating System (URS). 
GMs Teymur Rajabov, Rauf Mammadov, Gadir Huseynov, Arkadij Naiditsch and Eltaj Safarli have been ranked the 21st, 39th, 65th, 68th and 80th respectively.
Norwegian Magnus Carlsen tops the URS Ratings.
Shakhriyar Mamedyarov has earlier achieved a historic success, as he entered the Top 5 in the FIDE ranking for the first time in 2017.
The 32-year old chess player is a two-time World Junior Champion and gold-medalist at European Team Championships.
After winning  Essent Tournament in 2006, Mammadyarov achieved the world fame. He was the best player at the World Team Chess Championships 2009.
The national GM won the team gold medal for Azerbaijan at the European Team Chess Championship in 2009 and 2013. Shakhriyar represented Azerbaijan at the Chess Olympiads in 2000, 2002, 2004, 2008, 2010 and 2016.
The Universal Rating System is a new sport's rating system designed to assess the relative strength of participants across a wide variety of competitor vs competitor sports or games.
The rating system was developed as the result of a collaborative research project funded by the Grand Chess Tour, the Kasparov Chess Foundation and the Chess Club and Scholastic Center of Saint Louis.