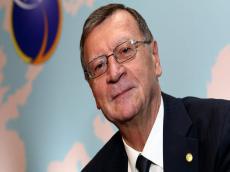 By  Trend
The organization of the European Women's Volleyball Championship is simply magnificent, I have no words, the President of the European Volleyball Confederation (CEV) Alexander Boricic told in an exclusive interview with Trend.
"We made it right that we entrusted the championship to two countries - Azerbaijan and Georgia, which is a very good experience for all other federations. For your information, the next European Championship will be held in four countries. Thus, we will further popularize volleyball, spectators in the stands will increase and accordingly, the popularity of women's volleyball will increase more and more in Europe", said Boricic.
Concerning the game of the Azerbaijani national team, the head of the European Confederation said that the team had a very good tournament and its game pleased all the fans. "The hall was full during the math of your team, I want to say special thanks to the President of Azerbaijan Ilham Aliyev, who did not miss a single match of his team, supported it. I would like to thank the members of the government, the fans who supported the team throughout the tournament", added Boricic.
"You know, fourth place in Europe is not given to everyone, your team has overtaken such teams as Russia, former European champion, strong teams of Italy, Belgium, Germany, Bulgaria, Poland", said Alexander Boricic.
The president of the European Volleyball Confederation believes that it is necessary to develop youth volleyball in Azerbaijan , to conduct domestic championships and national championships. "For your information, we are working on a new strategy for developing volleyball in small towns now, and after the European Championships in Azerbaijan and Georgia we decided to open volleyball schools in Ganja and in Georgia," said Alexander Boricic.