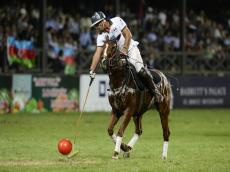 By  Azertac 
Four international teams will line-up for the 5th CBC Sport Arena Polo World Cup in Baku, Azerbaijan from 7-10 September and compete at the polo arena of the ARAF Elite Horse & Polo Club. The handicap of the tournament is 10-12 Goals Arena (Grass +1, or Arena Handicap), each participating team will consist of three players and two substitutes. The 5th Arena Polo World Cup will feature Team Grand Champions Polo Club (Palm Beach, USA), Team Elite Horse & Polo Club (Baku, Azerbaijan), Team Monte-Carlo Polo Team (Monte Carlo, Monaco) and the Team Evviva Polo Club (St. Moritz, Switzerland).
Since the inauguration of the Arena Polo World Cup Azerbaijan in 2013, the host team from Azerbaijan has not only made tremendous progress but could already win the first ever FIP Arena Polo European Championship in 2015.
2016 it was Team Bogner with Richard Fagan (1), Mario Gomez (4) and Santiago Torreguitar (3) who defeated the European Champions from Azerbaijan and emerged victorious. It was also last year when Reto Gaudenzi brought together two unique polo locations for the first time. Baku and his birthplace St. Moritz in Switzerland. For the first time ever in Baku the legendary Hotel Badrutt's Palace from St. Moritz was in charge of the VIP Catering together with the local caterer from Elite Horse & Polo Club. Reto Gaudenzi: "For us it was a great experience and success to bring together the destinations of Baku and St. Moritz. The 'Baku Moritz Gala Night' welcomed a few hundred guests and was the social highlight of the polo weekend in Baku. A unique combination which we are looking forward to continue next year." Yves Gardiol, General Manager of the Badrutt's Palace Hotel, attended the CBC Sport Arena Polo World Cup Azerbaijan personally: "For me it was the first time in Baku. I am absolutely impressed by this modern and open city and the warm welcome we received here."
Since 2013 Bahruz Nabijev of the Equestrian Federation of Azerbaijan Republic (ARAF) together with World Polo of Reto Gaudenzi and his team create and set up this highly successful arena polo tournament. In September again, four days of great sport and glamorous polo nights with great entertainment in Baku will welcome guests from all over the world.