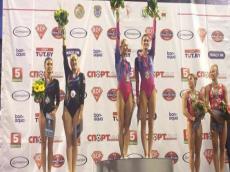 By Azernews
By Amina Nazarli
The Azerbaijani Trampoline Gymnastics National Team participated in an international tournament in Belarus. 
The World Cup series ended on August 19 in Minsk, which previously hosted the Open Slavic Games. The excitement and tiredness of the two competitions in a row did not prevent the national gymnasts from demonstrating successful performances.

Women's pair, Sviatlana Makshtarova and Veronika Zemlianaia, having performed their synchronised program accurately, managed to receive high scores from the judges. The girls were just left behind by the Belarusian team and mounted the second step of the podium.
They failed to reach the final in an individual program. 
Men's pair consisting of Oleg Piunov and Ilya Grishunin also participated in the synchro program.
Though the national jumpers succeeded to qualify for the final, they contented themselves with the 4th place due to the mistakes made in the decisive stage. Together with Ilya and Oleg, another representative of the National Team, Ruslan Aghamirov, also tried out his strength in the individual program.

Only Ilya participated in the final and took the 7th place.  Oleg and Ruslan ranked 13th and 22nd accordingly.
The FIG World Cup 2017 in Minsk hosted 78 athletes from 16 countries. Competing at the Minsk Palace of Sports were the best athletes of Japan, Ukraine, Russia, Kazakhstan, Italy, the United States and Canada.