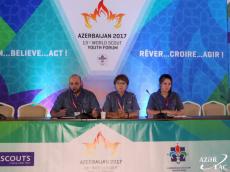 The 13th World Youth Scout Forum kicked off in Gabala on August 7. More than 1,500 scouts from 157 countries worldwide gathered in the country, Azertac reported.
The World Scout Conference is the governing body of WOSM (World Organization of the Scout Movement), and is where many important decisions are made. Here, member organizations consider the policy and standards of the Scout Movement, formulate the general policy of the World Organization and take the action required to further the purpose of the Movement.
Some of the functions of the Conference are to elect members of the World Scout Committee, admit new member countries, and select the venues for forthcoming World Scout Events, namely World Scout Jamborees, World Scout Moots, World Scout Conferences and World Scout Youth Forums. The Conference takes place every three years.
The World Scout Youth Forum takes place in conjunction with the World Scout Conference. The Youth Forum will take place before the conference and provides an opportunity for youth members of World Scouting to discuss different issues that face their NSOs from a youth perspective.
The World Organization of the Scout Movement (WOSM) is the largest international Scouting organization, attracting millions of young people who become active citizens, creating positive changes in the societies in which they live.
WOSM has 166 members- national scout organizations, which collectively have over 40 million participants.
The Association of Scouts of Azerbaijan is the national Scouting organization of Azerbaijan and was founded in 1997, and became the member of the World Organization of the Scout Movement on August 20, 2000.