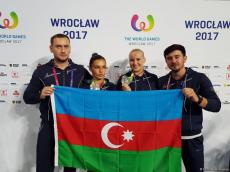 By Azernews
By Amina Nazarli
Azerbaijani gymnasts won medal at the World Games 2017, an international event gathering approximately 3,500 athletes in Wroc?aw from July 20 to 30.
National duo of Svetlana Makshtareva and Veronika Zemlanaya claimed silver medal at Synchronised Trampoline, leaving behind athletes from Russia, China, and the U.S.  The competition's gold was earned by Ukrainian athletes, while bronze medal went to gymnasts from the Netherlands.
"I am very happy for our girls," said Vladimir Shulikin, the Coach of the Azerbaijani trampoline team. "I am glad that they were able to successfully represent our country and the Gymnastics Federation of Azerbaijan. The girls showed a decent result, despite the fact that their rivals were quite strong teams from Russia, Ukraine and China."
Now the national gymnasts will prepare to participate at the World Cup in Bulgaria, which will be held at the end of this year.
The 10th World Games 2017 in Wroc?aw is an event bringing together more than 30 sport disciplines such as various water, aerial or team sports. A few thousand athletes are competing in new and renovated sport facilities.
Trampoline gymnastics appeared In Azerbaijan in the mid-2013. The first athlete to represent the country in the international arena was Ruslan Aghamirov, who performed at the World Cup 2013 in Denmark.

In autumn 2014, the Azerbaijani trampoline gymnastics team made a breakthrough, for the first time becoming prizewinners of the World Cup in Portugal performing in synchronized pairing by Oleg Piunov and Ilya Grishunin.

This sport is still at the stage of development in Azerbaijan and each year is gaining new momentum.