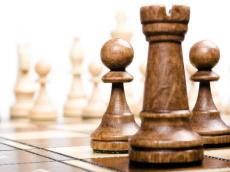 By Azernews
By Laman Ismayilova
The third stage of FIDE Grand Prix starts today in Geneva.
The tournament will bring together chess players Shakhriyar Mamedyarov, Teimour Radjabov, Levon Aronian, Anish Giri, Ian Nepomniachtchi, Harikrishna Pentala, Pavel Eljanov, Michael Adams, Peter Svidler, Alexander Grischuk, Ernesto Inarkiev, Boris Gelfand, Li Chao, Dmitry Jakovenko, Salem Saleh, Hou Yifan, Alexander Riazantsev and Richard Rapport.
Azerbaijani GM Shakhriyar Mamedyarov will meet with Boris Gelfand (Israel).
Teimour Radjabov will play against Anish Giri (Holland), azerisport.com reported.
Geneva FIDE Grand Prix, a nine round Swiss contest, is the third of four Grand Prix in 2017 and follows the FIDE Grand Prix Sharjah (2017) in February and the FIDE Grand Prix Moscow (2017) in May.
The Geneva FIDE Grand Prix will last until July 16.
Azerbaijan's grandmaster Shakhriyar Mamedyarov has achieved a historic success, as he entered the Top 5 in the FIDE ranking for the first time.
The 32-year old chess player is a two-time World Junior Champion and gold-medalist at European Team Championships.
After winning  Essent Tournament in 2006, Mammadyarov achieved the world fame. He was the best player at the World Team Chess Championships 2009.
The national GM won the team gold medal for Azerbaijan at the European Team Chess Championship in 2009 and 2013. Shakhriyar represented Azerbaijan at the Chess Olympiads in 2000, 2002, 2004, 2008, 2010 and 2016.
Mammadyarov won the 3rd and 4th editions of the Gashimov Memorial in Shamkir.
Teimour Radjabov earned the title of Grandmaster in March 2001 at the age of 14, making him the second-youngest grandmaster in history at the time.
Azerbaijani grandmaster claimed the bronze medal at the 2015 FIDE World Rapid Championship.
Radjabov became the first player born since Kasparov first became World Chess Champion in 1985, to defeat him. Radjabov is also the youngest player in history to defeat a reigning world No. 1 in a game at tournament time controls.