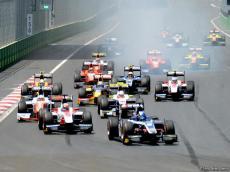 By Azernews       
By Amina Nazarli
Construction of facilities for the circuit of 2017 Formula 1 Azerbaijan Grand Prix has been completed by 99 percent, said Tom Butcher.

The head of venue delivery & facilities management at Baku City Circuit Operations Company told reporters in Baku that now, the construction and installation work is at its final stage.

Starting from 01:00 (UTC +4 hours) June 19, main streets of Baku will be cordoned off for completing the work, Butcher said, adding the company is doing everything necessary to minimize the impact on city traffic.
He noted that within the next four days, the track will be completely ready to host the race.
Talking to reporters about the final preparations, BCC Head of Marketing and Communications Department Nigar Arpadarai said that mounting of spectator stands on the track of Formula 1 in Baku completed by 95 percent.
She said that they used innovations in construction of the stands this year. "In the upper part of some stands there are corporate boxes. These are places for companies that bought tickets for their employees. In general, all the work is on schedule, trainings for volunteers and marshals are held and they are all ready for the Grand Prix of Azerbaijan," said Arpadarai.
She noted that the largest number of tickets was bought by citizens of Azerbaijan and Russia.
"Since the start of ticket sales in December, foreign citizens have been very intensively buying tickets, and at the moment this dynamics is still going on. Tickets for the two stands are sold out completely," she said.
Earlier, Arpadarai said that the tickets have been bought in 57 countries and more than half of sold tickets were bought by foreigners. 
Arpadarai added that traffic on the roads that will host Baku circuit, will be closed from June 19 to 27.
Baku, which has turned into a circuit of legendary corners seeped in history with cars running through the capital's streets, is preparing to hold another exciting car show with the Formula 1 European Grand Prix family on June 23-25.