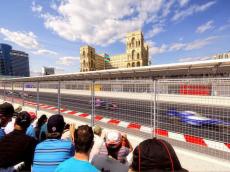 By Azernews
By Rashid Shirinov
Baku City Circuit, the organizer company of the Formula 1 competitions in Azerbaijan, continues intensive preparatory work in connection with Formula 1 Azerbaijan Grand Prix scheduled for June 23-25 in Baku.
The company told Trend on May 25 that work is ongoing on construction of the steel structures and the second protective barrier around the racetrack. During construction works, particular attention is paid to ensuring continuous movement of citizens. Everything is done to not interfere with the work of nearby business and catering facilities, the company said.
Baku City Circuit also noted that foreigner's interest in the Baku race is even larger than it was last year. Thousands of tourists are expected to come to Baku to watch the race.
"We, as organizers, prepare to meet the fans, who will come to watch the Grand Prix of Azerbaijan, with great hospitality. We hope that these tourists will contribute to many sectors of the country's economy," the company said.
The second successive Formula 1 race to be staged on the streets of Azerbaijan's capital city is scheduled to take place on the weekend of 23rd -25th June. Overall 18,000 spectators are expected to watch from the grandstands, and a minimum of 10,000 spectators will enjoy the race from the standing areas.
Unlike 2016, this year Azerbaijan joins the race with a different name, as Formula 1 Grand Prix in Baku was renamed to the Grand Prix of Azerbaijan.
A variety of ticket options are on offer for the 2017 Formula 1 Azerbaijan Grand Prix, while the 4-day tickets include grandstand access to not only the three days of racing as well as all accompanying entertainment offerings but also to a special Pit Lane Walk on June 22.