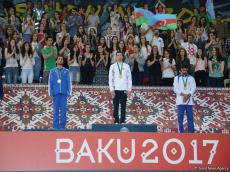 By  Trend
An award ceremony was today held at the National Gymnastics Arena in Baku for winners of individual competitions in artistic gymnastics at the 4th Islamic Solidarity Games.
The ceremony was attended by Chairman of Azerishig OJSC Baba Rzayev and the Islamic Solidarity Sports Federation's Executive Committee member Konul Nurullayeva.
Medals were presented to the winners of men's horizontal bar, pommel horse and vault exercises and women's floor and balance beam exercises.