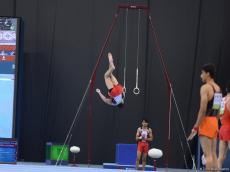 By  Trend
Turkish artistic gymnast Ahmet Onder has won a gold medal in the vault finals of the 4th Islamic Solidarity Games in Baku.
He scored 14.100 in the finals.
Algeria's Mohamed Abdeldjalil Bourguieg (13.950 points) won silver and Indonesia's Muhammad Aprizal won bronze (13.575 points).
Azerbaijani gymnast Murad Agharzayev took seventh place in the vault finals of Baku 2017.
The Baku 2017 Islamic Solidarity Games started May 8 and will last until May 22 in Azerbaijan's capital.