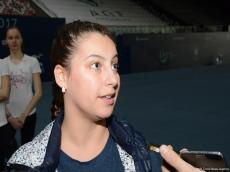 By  Trend
There is a nice atmosphere in the Azerbaijani national rhythmic gymnastics team on the eve of the FIG Rhythmic Gymnastics World Cup in Baku, said Meyla Basriyeva, the coach of the country's team participating in group exercises.
Basriyeva, talking to Trend on April 20, noted that the team is intensively preparing for the competitions.
"We expect our gymnasts to perform well, show the composition and, of course, win a medal," Basriyeva said.
"First of all, we expect to perform well to please the spectators and referees, and, of course, we want to win medals," gymnast Ayshan Bayramova said.
She also spoke about new compositions.
Team captain Siyana Vasileva stressed that the gymnasts are waiting for the fans' support.
Baku will host another FIG Rhythmic Gymnastics World Cup on April 28-30.
Gymnasts from different countries will gather at the National Gymnastics Arena to demonstrate their mastery this time as well.
Participation of 92 gymnasts from 21 countries is expected in the event.