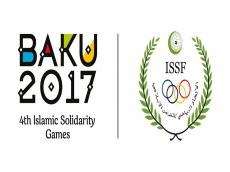 The Azerbaijan Islamic Solidarity Games Operations Committee (AISGOC) and the Islamic Solidarity Sports Federation (ISSF) announced that athletes from all 57 ISSF member nations will compete at the forthcoming 4th Islamic Solidarity Games scheduled for May 12-22.
The   announcement   comes   after   ISSF and   AISGOC brokered an agreement between all parties to enable athletes from Kuwait to participate in the Games as Independent Islamic Solidarity Games Athletes, who will compete under the Flag of the ISSF. 
As part of this agreement only athletes and coaches will be accredited by the ISSF and will wear ISSF uniforms. Any medals won, will be done so under the ISSF banner. To provide athletes with the necessary level of support, the ISSF has appointed an independent Chef de Mission, who will coordinate the participation of these athletes.
Speaking about this announcement H.E. Faisal Abdulaziz Al-Nassar, Secretary General of the ISSF said: "The Islamic Solidarity Games is a multi-national, multi-cultural, multi-sport event inspired by a spirit of unity and solidarity. We believe that bringing together athletes from across the Islamic world will foster friendship and understanding amongst the young people of our diverse community."
"We are therefore delighted that athletes from all 57 ISSF member nations will be competing at these Games and would like to place on record our gratitude to all parties for helping make this happen," he noted.
Up to 5,000 athletes and officials, from across four continents, are expected to travel to Baku to be part of the Games. The athletes will be competing in 270 medal events, across 20 sports, which include two para sports – athletics and judo.
The Games will take place in 16 state-of-the-art venues, located across the city, including the Baku Olympic Stadium, which will host both the Opening and Closing ceremonies on the 12 and 22 May respectively.
Athletes from Islamic countries around the world will be representing their nations over 10 days of competition across 20 different sports which include 23 disciplines (Athletics and Para Athletics, Aquatics – Diving, Aquatics – Swimming, Aquatics – Water Polo, Basketball 3x3, Football, Gymnastics – Artistic, Gymnastics – Rhythmic, Wushu, Table Tennis, Handball, Judo and Blind Judo, Wrestling – Greco, Wrestling – Freestyle, Shooting, Tennis, Volleyball, Boxing, Zurkhaneh, Karate, Taekwondo and Weightlifting).
Azerbaijan's capital city Baku was awarded the Games at the General Assembly of the Islamic Solidarity Sports Federation (ISSF) in Jeddah in July 2013.