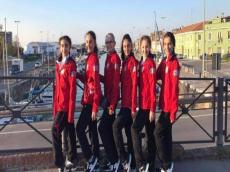 By Azernews
Graceful Azerbaijani gymnasts returned with bronze medals from Italy.
Azerbaijan's junior team in rhythmic gymnastics, including Gullu Agalarzade, Darya Sorokina, Narmin Djahangirova, Narin Gurbanova and Fatima Akbarova won bronze medals in group exercises at the Pesaro International Tournament held on April 11-13.
Having performed the program with clubs, the national gymnasts lost only to teams from Russia and Israel.
In the individual program among adult athletes, Zohra Agamirova successfully performed in the qualifying stage, completing the exercises with all four subjects, and managed to pass to the final.

In the final stage, showing the best result in the exercise with the hoop, Agamirova took  the fourth place failing to win a medal.