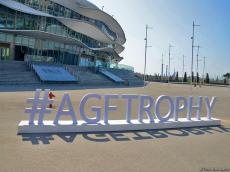 By Azernews
By Amina Nazarli
Azerbaijani judges, who participated in the International Judges Courses in Rhythmic Gymnastics, successfully passed their exams.
The International Judges Courses were organized in Baku on January 25-31 and brought together 58 judges from 17 countries.
As many as 19 out of 20 judges representing Azerbaijan successfully passed the exams, according to the Azerbaijan Gymnastics Federation.
The Azerbaijani representatives obtained maximum number of the FIG Brevet within the same Olympic cycle for the first time.
The list of the judges is as follows: Natalya Bulanova, Yevgeniya Zhidkova, Anastasiya Prasolova, Vafa Bakarova, Nigar Abdusalimova, Zhala Garatova, Fatima Shafizada, Mansura Bagiyeva, Telana Aliyeva, Sabina Abbasova, Aysel Allahverdiyeva, Elnara Huseynova, Lala Maharramova, Nigar Mirzayeva, Aleksandra Reysh, Aynur Mustafayeva, Leyli Huseynli, Madina Hasanova and Irada Ahadzade.
This year Azerbaijan was represented by 20 judges in the courses, while last year their number was only six.
The AGF, which was founded in 1956, has experienced revival since 2002 and the renewed federation lifted this popular sport to a new level.
Thanks to a high-level and dynamic activity of the Federation, Azerbaijani gymnastics has been able to break into the world sporting arena.