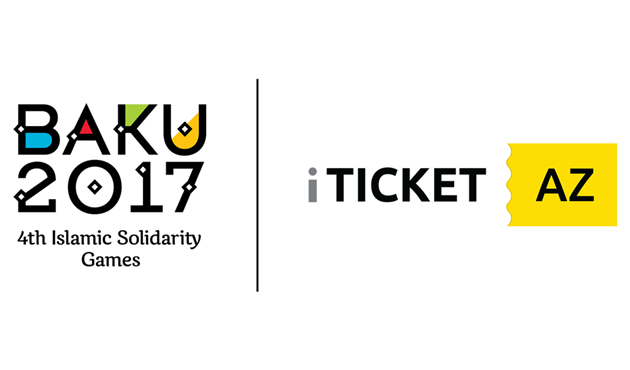 From March 19, ticket sales for the Baku 2017 Islamic Solidarity Games have already started and we are pleased to announce thatBaku based ticketing company iTicket.az is theOfficial Ticketing System Provider and Supporter of Baku 2017 Games.
iTicket.az was foundedin 2016 performing online and offline ticket sales for concerts, theaters, sports and entertainment events with 15 ticket sale outletsoperating under iTicket.az supervision.  Online purchase on iticket.az web site is available 24/7 and tickets can be delivered to any points of the city.
Mr. Elchin Safarov, Corporate Director, Baku 2017 said: "Launching ticket sales is one of the most important steps for us, we are confident that everyone intends to buy their own ticketsfor the Games as soon as possible, to ensure their seats at sport sessions, as well as Opening and Closing Ceremonies,in advance. Ticket prices will remain reasonable as it was during the Baku 2015".
Mr. Ziya Mammadov, iTicket.az CEOnoted: "Certainly it was a great honor for us to became not only an official Supporter of the Baku 2017 Games, but also a Provider of Ticketing System. We were challenged to develop and implement ticketing system for multi-sport event in accordance with international standards and it was not an easy task to do. I should proudly note that our team finalized that task successfully and today iTicket.az is the only company in a regionwho can substitute any European counterparts in this industry".
Anyone willing to be a part of this fantastic sporting occasion can do so by purchasing a ticket either via the Baku 2017 website - www.baku2017.com/tickets, or from 12 ticket outlets including Park Bulvar, GanjlikMall and 28 Mall, as well as 5 ASAN Service sales pointslocated across Baku. Additionally, Venue Ticket Box offices will be operating at 17 venues during the Games.
The Baku 2017 Islamic Solidarity Games is an exciting multi-sport event uniting the Islamic world, which will take place from 12 – 22 May 2017. 
Athletes from Islamic countries around the world will be representing their nations over 10 days of competition across 20 different sports which include 23 disciplines (Athletics and Para Athletics, Aquatics – Diving, Aquatics – Swimming, Aquatics – Water Polo, Basketball 3x3, Football, Gymnastics – Artistic, Gymnastics – Rhythmic, Wushu, Table Tennis, Handball, Judo and Blind Judo, Wrestling – Greco, Wrestling – Freestyle, Shooting, Tennis, Volleyball, Boxing, Zurkhaneh, Karate, Taekwondo and Weightlifting) in 16 world-class sporting venues in Baku.
Azerbaijan's capital city Baku was awarded the Games at the General Assembly of the Islamic Solidarity Sports Federation (ISSF) in Jeddah in July 2013.
The Organising Committee was set up by the decree of the President of the Republic of Azerbaijan, honourable Ilham Aliyev.  According to this decree, the leadership of the Organising Committee has been assigned to the First Vice President of Azerbaijan, Mehriban Aliyeva. The Azerbaijan Islamic Solidarity Games Operations Committee (AISGOC) will organize and run the Games in cooperation with the ISSF.