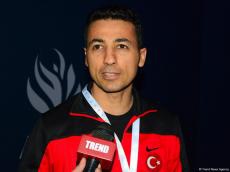 By  Trend
Competition will be very tough at the FIG Artistic Gymnastics Individual Apparatus World Cup, says Ismayil Goktekin, head of the Turkish gymnastics delegation in Baku.
"Representatives of 23 countries will take part in the competitions, and there are strong athletes from Japan, China, Israel and Ukraine among them. We can say that a kind of mini world championship will be held here," he told Trend Mar. 15.
Goktekin noted that he expects goods results from Turkish athletes.
"Reaching the finals won't be easy, but we will try to fulfill this task," added Goktekin.
Ten Turkish gymnasts will compete in the FIG Artistic Gymnastics Individual Apparatus World Cup, he said, adding they will participate in qualifications on March 16 and 17.
Goktekin thanked Azerbaijan for the high-level organization and hospitality towards all athletes and members of the delegation.
"Organization has been done at a high level in the brotherly country, starting with hotels and ending with conditions in the competition hall. I think all athletes will compete in an excellent atmosphere," said Goktekin. "I want to congratulate Azerbaijan in advance on excellently holding the World Cup."
The FIG Artistic Gymnastics Individual Apparatus World Cup will be held in Baku on March 16-19. Athletes from 23 countries are expected to perform at the World Cup to be hosted by the Azerbaijani capital for the second time.
Qualifications will be held on the first two days of the event followed by the Apparatus Finals on last two days.