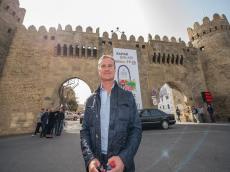 Former Formula 1 driver, David Coulthard, visited Baku on March 15 to take a closer look at Baku City Circuit, the newest street circuit in Formula 1, as it prepares to host its second successive Grand Prix on June 23-25.
Coulthard began his stay in Baku by immediately taking a tour of the street track, inspecting some of its key features which proved such a unique challenge to the drivers last summer.
Today's tour - taking place just over three months before the return of F1 to Baku's streets and just a week ahead of the season opener in Australia-  allowed Coulthard to return to the scene of last year's fastest street race and see for himself how much progress has already been made along the track's route as Baku City Circuit continues its daily preparations to ensure the street circuit is once again operational in time for the second race weekend in the city this coming June.
As part of this morning's 'track walk', the former Williams, McLaren and Red Bull driver also got the chance to closely examine what has already become one of the iconic images in Formula 1 - the 7.6 metre narrow, uphill, winding section by Turn 8 to Turn 11 at the city's Old Town walls.  
His tour also took in Turn 18, where cars race past the Maiden Tower, Baku's ancient defensive structure, as well as the 'dual carriageway' section of the circuit. Finally, he was also taken to the circuit's main straight along Baku's picturesque seaside boulevard, which last year witnessed Valtteri Bottas set a new F1 street circuit speed record in his Williams car, recording an official speed of 366kph along the circuit's main straight (later unofficially recorded as reaching an astonishing 378kph).
Coulthard, speaking at a specially arranged press conference on March 15, voiced his pleasure in coming back to Baku.
"It is a real honor for me to be invited to Baku ahead of the 2017 Formula 1 Azerbaijan Grand Prix. The welcome I have received from everyone since my arrival has been wonderful and further confirms my already positive impressions of this city from last summer when it staged such a remarkable debut race weekend," he said.
Coulthard,  added that Baku is truly a delight to visit, with its beautiful mix of the old and the modern, as well as its many eastern and western influences." I feel absolutely confident that this summer's race will be even better than last year. The track's narrow sequences in particular will prove especially challenging to the wider 2017 cars, so I hope we will see some increased action this year. I really can't wait to come back here this summer."
In addition to his track inspection, Coulthard will also spend the rest of his time in Baku engaging with local fans in a series of events being staged across the city as well as with the 2017 FORMULA 1 AZERBAIJAN GRAND PRIX staff.
For more information on how to purchase tickets and plan your stay in Baku for the 2017 Formula 1 Azerbaijan Grand Prix please visit: www.bakucitycircuit.com