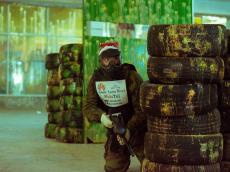 By Azernews
By Laman Ismayilova
A paintball tournament will be held at AF Hotel in Novkhani on March 5.
The competition will bring together athletes, pop stars, actors and media representatives, Trend Life reported. The tournament is dedicated to the Day of Physical Culture and Sport in Azerbaijan.
"Physical culture and sport help to improve physical training of the person, strengthens health and boosts intellectual development, which ultimately contributes to the overall economic progress of the country," the organizer's message says.
The tournament is organized under the auspices of the Youth and Sports Ministry and National Olympic Committee.
Every year, Azerbaijan's sports community marks the Day of Physical Culture and Sports on March 5.
Azerbaijan is developing sports to promote a healthy and active lifestyle among Azerbaijani youth and ensure their integration into society.
Overall, the Azerbaijani athletes showed brilliant performances in both domestic and international competitions in 2016, winning 827 medals, of which 18 are Olympic medals.
Today modern sporting complexes operate not only in Baku, but also in almost all regions of the homeland, which have played a significant role in the development of sports in the regions. There were established over 40 Olympic Centers in the regions, while construction of more centers is underway.