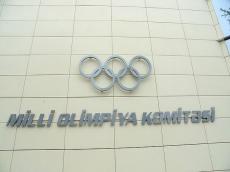 By Azernews
By Amina Nazarli
Azerbaijan`s National Olympic Committee (NOC) will mark the 25th anniversary of its establishment this year.
President Ilham Aliyev has signed an order on the celebration of the date.  Under the order, the Cabinet of Minister is instructed to develop an action plan to celebrate the National Olympic Committee`s jubilee.
The NOC was established in 1992 and in the same year was accepted as a member of the European and a year later of the International Olympic Committee.
For the first time Azerbaijan took part in the Olympic Games as an independent state in 1996 and since then sends athletes to all Olympic Games. 
The 31st Summer Olympic Games in Rio in summer 2016 went into the history of the Azerbaijani sport as one of the brightest Olympic pages.  Azerbaijan's history-making athletes have secured the country's biggest Olympic medal haul for the past 25 years of Azerbaijan's independence, winning 18 medals.
With one gold, seven silver and 10 bronze, Azerbaijan was ranked the 39th in the medal table, while the national team become the most efficient team of the Games. The country has won 0.3 medals per athlete, with its relatively small team of 56 athletes.
Overall, the Azerbaijani athletes showed brilliant performances in both domestic and international competitions in 2016, winning 827 medals.
Today modern sporting complexes operate not only in Baku, but also in almost all regions of the homeland, which have played a significant role in the development of sports in the regions. There were established over 40 Olympic Centers in the regions, while construction of more centers is underway.