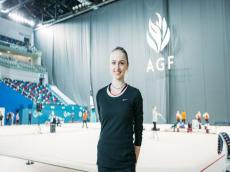 "I strive to get the gold medal," said the silver medalist of the European Games, gymnast Marina Durunda as she was interviewed by the official website of Baku 2017 Islamic Solidarity Games.
Question:  Marina, gymnastics is a sport that requires much patience and attention to details. As a professional gymnast, what do you think about that?
Answer: We perform with music, and this sport requires a detailed approach to our performances, and we adjust out main moves. At that moment we only think of our performances and properly executing our moves.
Q.: What are the different kinds of gymnastics? Are there any interesting moves or a special meaning tied to them?
A.:  There are rhythmic gymnastics, men's artistic gymnastics, women's artistic gymnastics, trampolining, tumbling, acrobatic gymnastics, aerobic gymnastics. Everyone takes part in a gymnastics type that fits them. Your mood is also important. Your body, gestures, facial expressions are all crucial. I'd say sport begins with gymnastics, and my venture into sport started with gymnastics.
Q.: How are the training sessions? Which tournaments will take place before the Islamic Games?
A.:   Trainings take place twice a day, and the trainings are continuous. We'll be training with a new program in the new season.
Q.: What do you have to say about the Islamic Games and your participation?
A.:  I had participated in the European Games, and took silver. Now I strive to get the gold medal and I believe that I can meet these expectations. I prepare to the Games with all my strength, stamina and passion.