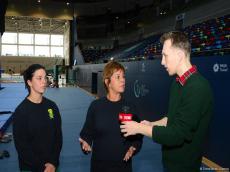 By  Trend
Mandy Zoonekynd, a South African gymnastics coach, says she is delighted with having the opportunity to conduct trainings in the National Gymnastics Arena in Baku for the World Cup in Trampoline Gymnastics and Tumbling.
Participants of the World Cup in Trampoline Gymnastics and Tumbling have already started arriving in Azerbaijan. In particular, gymnasts from South Africa and Kazakhstan are already in Baku.
One of the main aims of this visit is to prepare for the World Games, Zoonekynd told Trend.
There are excellent conditions for training and development of athletes in Baku, she noted, adding that the World Cup itself is a great opportunity to train for the World Games 2017 to be held in Poland in July.
There are wonderful sports facilities here, noted the coach.
Zoonekynd added that this is her first visit to Baku.
"It is a beautiful city with nice people and we are really happy to be here. The Gymnastics Arena is just perfect," she said. "In general, we don't have any problems, for which we thank the Azerbaijan Gymnastics Federation. As for the results, we would like to be on the podium and I think it is possible."
The new Olympic cycle's first World Cup in Trampoline Gymnastics and Tumbling will take place at the National Gymnastics Arena in Baku on February 18-19. Eighty-five trampoline and tumbling gymnasts from 15 countries will test their strength on the basis of the new Code of Points coming into force in 2017.
The qualifications to take place on the first day of the competitions will be followed by finals the next day.
At these events, Azerbaijan will be represented by Ilya Grishunin, Oleg Piunov, Ruslan Aghamirov, Sviatlana Makshtarova and Veronika Zemlianaia in the trampoline individual and synchro pairs programs, as well as by Mikhail Malkin on the tumbling track.