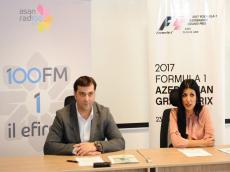 By Azernews
By Amina Nazarli
Baku City Circuit Operations Company (BCC), the organizer of 2017 Formula 1 Azerbaijan Grand Prix, and ASAN Radio inked a memorandum of cooperation in the field of information and other areas on January 9.
The memorandum was signed by BCC Head of Marketing and Communications Department Nigar Arpadarai and director of ASAN Radio Emin Musavi.
In 2016 Baku for the first time hosted the Formula 1, one of the world's richest forms of motorsport. Along with Monaco and Singapore, Baku was the third street circuit on the calendar. 
The length of the race track, where 11 teams each with 2 pilots, competed for the best title, was 6 km and had some pretty serious changes in altitude, ascents and descents. The width of the widest portion of the track was 13 meters and the narrowest section was 7.6 meters.
This year between June 23 and 25, Baku streets will once again welcome exciting sport cars within Formula 1 race, which the country has committed to host for five years.
Unlike last year, in 2017 the country will join the race with a different name, as Formula 1 Grand Prix in Baku was renamed to the Grand Prix of Azerbaijan.
Meanwhile, tickets for the 2017 Formula 1 Azerbaijan Grand Prix is available to purchase online via www.bakucitycircuit.com from December 2. The BCC is offering fans a limited supply of special 'early bird' discounts of up to 30 percent on the cost of all 4-day tickets.