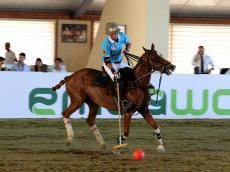 By Azernews
By Amina Nazarli
Azerbaijan will host the European Championship on Polo in 2020, said Bahruz Nabiyev, Secretary General of the Azerbaijan Equestrian Federation.
The decision to hold the continental competitions in Azerbaijan was made at a recent meeting of the International Equestrian Federation.
Nagiyev said that in 2018 Azerbaijan's polo team will participate in the European Championship, to be held in Siena, Italy.
He further added that the national team of Azerbaijan is now at training camp in Argentina.

"We have a national polo team, which consists of members of Chovgan teams. Chovgan competitions provide us with the opportunity to select new players to the national team. After these competitions we will choose more players, and form the second composition of the team," he said.
The 1st FIP Arena Polo European Championship held in Baku in 2015 ended with the victory of the Azerbaijani team.
Azerbaijanis have a heritage of playing equestrian sports like Chovgan, the original form of polo dating back thousands of years. Chovgan is still played in Azerbaijan to this day, and since 2006, the Chovgan Presidential Cup has been held every December.
This ancient game was included in UNESCO's List of Intangible Cultural Heritage at the 8th Session of UNESCO Intergovernmental Committee for the Safeguarding of the Intangible Cultural Heritage, which was held in Baku in 2013.