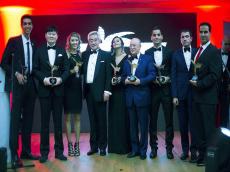 By Azernews
By Laman Ismayilova
The World Taekwondo Federation put on the ritz as it held its third Annual Gala Awards at Baku's Badamdar Hotel this weekend.
Moreover, the WTO was able to raise over 60,000 for its charity initiative, the Taekwondo Humanitarian Foundation.
WTF President Chungwon Choue, addressing the event, informed the guests how the "World Taekwondo Family" enjoys both good times and bad times together.
He also stressed its humanitarian initiatives for refugees and displaced people around the world make it different from other sports organizations.
The WTF President congratulated Azerbaijan's Youth and Sports Minister Azad Rahimov on the country's only gold medal in the Rio Olympics, won for Azerbaijan by Radik Isaev – one of the award nominees.
Later, WTF Vice President and Azerbaijan Taekwondo Federation President Kamaladdin Heydarov received special awards by Choue.
The Best Member National Association of the Year award was won by to Azerbaijan – a decision that was clearly popular with the crowd.
Rahimov was also given a appreciation plaque. "It is a high privilege to be here with you and we are proud to host this event," Rahimov said, noting that Azerbaijan "is a land of fire and a country of sports."
Moreover, the Coach of the Year award was won by Azerbaijan's Reza Mehmandoust.
The Female Player of the Year award went to Great Britain's double Olympic gold medalist Jade Jones.  The Male Player of the Year award went to Jordan's Ahmad Abughaush, who delivered his country its first-ever Olympic medal in Rio – gold. 
The Referee of the Year Award, Women, went to Maria Merkouri of Georgia, while the Referee of the Year Award, Men, went to Song-chul Kim of Canada.
The Best Kick of the Year award was won by Cote d'Ivoire's Cheick Salleh Junior Cisse (who did not attend) for his last-second jump spinning heel kick to the head of Great Britain's Lutalo Mohammad – which won him the gold in the -80kg category in Rio.
The World Taekwondo Federation is the International Federation governing the sport of Taekwondo and is a member of the Association of Summer Olympic International Federations (ASOIF). The WTF recognizes national Taekwondo governing bodies recognized by the NOC in the pertinent country, one in each country, as its members.
Taekwondo is one of the most systematic and scientific Korean traditional martial arts, that teaches more than physical fighting skills. It is a discipline that shows ways of enhancing our spirit and life through training our body and mind