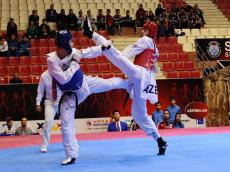 By Azernews
By Laman Ismayilova
Azerbaijani fighter Milad Beigi Harchegani (80 kg) has won a gold medal at the World Taekwondo Grand Prix Final in Baku.
He secured the gold after defeating Egyptian Seif Eissa.
Milad Beigi Harchegani won a bronze medal at the 2016 Summer Olympics.
Other taekwondo fighters - winners of Baku-2015 First European Games Ayhan Tagizade (68 kg) and Olympic champion Radik Isayev (80 kg), as well as Roman Samodurov (58 kg) and only female taekwondo fighter Yaprak Eris (57 kg) lost in the first match and left without medals.
Notably, Azerbaijani taekwondo practitioners will compete in World Championship on December 12-13.
Eight national teams per gender division – i.e. eight male and eight female teams – are competing for honors.
Taekwondo is one of the most popular sports in Azerbaijan. The National Taekwondo Federation has trained many prominent athletes since its founding in 1992. Many of those athletes now enjoy international recognition.
The Federation's training facility houses new, state-of-the-art training equipment and has a proud history of bringing up more than 500 black belt recipients and athletes.